Important Tourist Place in Kerala
Kappad

Athirappalli Water Falls

Kochi

Munnar

Kovalam

Devikulam
Kumarakom

Alappuzha

Thekkady

Varkala

Vagamon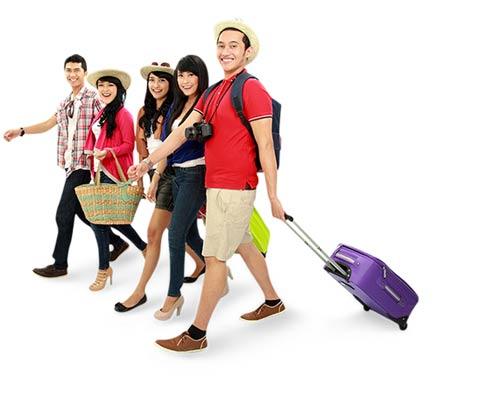 Kerala Fairs and Festivals
Kadhakali
Kathakali is the classical dance-drama of Kerala, South India, which dates from the 17th centuryKalamandalam Ramankutty Nair and is rooted in Hindu mythology. Kathakali has a unique combination of literature, music, painting, acting and dance.
Thrissur Pooram
The Thrissur Pooram is one of the most spectacular festivals in the world. In terms of visual splendour, the grand assembly of caparisoned elephants, amazing pyrotechnic displays, spellbinding ensembles of percussion instruments and enthusiastic crowds, there is no match for it. One can't find a festive gathering and celebration on such a scale anywhere else.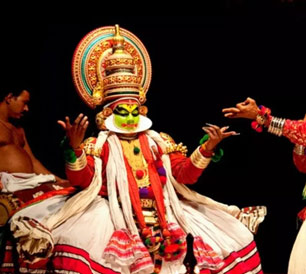 Nehru Trophy Boat Race
Jawaharlal Nehru, the first prime minister of Independent India visited Kerala in 1952. He was given a roaring reception by the people of alleppey, escorted by the huge snake-boats. Having gone through the tremendous excitement of sailing in a snake-boat Jawaharlal Nehru donated a rolling trophy to be awarded to the winner of the race. The trophy is a replica of a snake-boat in silver, placed on wooden abacus on which the following words are inscribed.
Onam Festival
Onam is an ancient festival which still survives in the Modern times. Kerala's rice harvest festival and the festival of rain flowers which fell on the Malayalam month of Chingam celebrated the annual visit from pathalam of the very noble Demon King Maveli. Onam is unique since king Maveli is revered by people of Kerala from prehistory.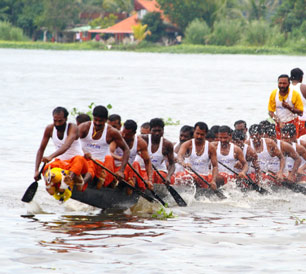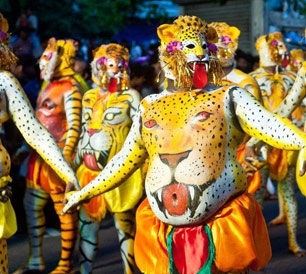 MONTH

FAIR/FESTIVAL

VENUE

SPECIAL FUTURE

January / February
Makara Vilakku


---

Great Elephant March (17th - 20 th Jan.)

---

Village Fair (3rd Jan.)
Sabarimala

---

Thrissur & Thiruvananthapuram

---

Near Kovalam

---

Colorful procession of elephants

---

It is a recreation of the rural Kerala
February / March
Utram Festival

---

Sivarathri

---

Flavour & Nishadandhi Dance Festival
Thripunittura

---

Aluva Thripunittura

---

Thrivunanthapuram

---

Special Poojas and Cultural events

---

Delicious Indian cuisine available
March / April
Kodiyettu

---

Ashtami Festival & Elephant Races
Guruvayoor

---

Guruvayoor

---

Elephant Processions and races
April / May
Pooram

---

Vishu Vilakku
Thrissur,Arattupuzha

---

Sabarimala & Kannur
Elephant Umbrella Competition

---

Prayers & Lighting Lamps
May / June
Sahkaracharya Jayanthi
Kaladi
Birth Anniversary of Adi Sankaracharya
June / July
Boat Races & Processions
Ambalappuzha
Spectacular Boat Racing
July / August
Nehru Trophy Boat Race
Alappuzha
World Famous Snake Boat Racing
August / September
Onam & Tourism Week Celebration

---

Boat Races
Throughout Kerala

---

Alappuzha, Aranmula, Kumarakom etc..
Most Important Festival of Kerala

---

Boat racing Events
September / October
Krishna Jayanthi

---

Mahanavami
Guruvayoor

---

Thiruvananthapuram
Lord Krishna's birth anniversary

---

October / November
Mandalam Festival

---

Ashtami
Sabarimala

---

Vaikom

---

Elephant procession, Dance & Music
November / December
Mandala Pooja


---

Ekadasi Festival

---

Sivagiri Festival

---

Christmas
Sabarimala

---

Guruvayur

---

Varkala

---

All over the State

---

Fasting & devetional Exercises

---

---

Major Christian Festival